Jail for man who shot neighbour in child discipline row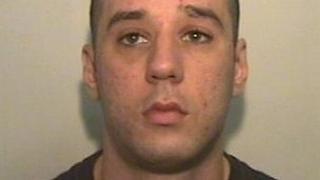 A Wigan man who shot a neighbour after a row broke out between families over the telling-off of a child has been jailed at Liverpool Crown Court.
David Mitchell, 30, of HMP Liverpool, admitted shooting the man in April and was sentenced to eight years.
Sean Nolan, 26, of no fixed abode, was jailed for three years after admitting helping Mitchell.
Det Con Cathy Gerrard said Mitchell's actions had had a "shocking effect on the local community".
A Greater Manchester Police spokesman said there had been a "simmering row" between Mitchell and another family after a parent had told off someone else's child.
Ran off laughing
He said Mitchell had argued in the street with his 29-year-old victim before the shooting on 5 April and was heard saying he was "gonna get me gun and shoot you".
Later, Mitchell and Nolan bought black hats and gloves from a shop in Norley Hall before going to the victim's house.
Mitchell fired a shotgun twice, hitting the 29-year-old in the leg, before running off laughing.
The injured man was treated for pellet wounds and a cut to his forehead and has since made a full recovery.
Ms Gerrard said: "No-one wants to live where people like Mitchell can march round and settle arguments with a firearm.
"Thankfully, they no longer have to as Mitchell, and his accomplice Nolan, are where they belong - jail."