Mother robbed at knife point during Gatley car jacking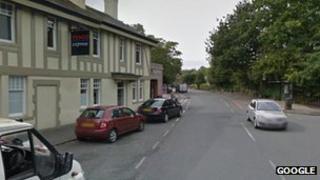 A mother had a knife held to her throat in front of her six-year-old son during a car jacking.
They were followed to their car as they left a Tesco Express shop in Church Road in Gatley, Stockport, at about 19:30 BST on Thursday.
They got into the car and the attacker got into the passenger seat before threatening the woman with the knife.
He demanded cash and her mobile phone, before ordering them out of the car and driving off towards Styal Road.
He hit another car on the way.
The stolen car was recovered later in Nearbrook Road, Benchill, police said.
The carjacker is described as white, in his late-20s, taller than 5ft 9in (1.7m), with a slim build
He had a Manchester accent and was wearing a black woolly hat and dark-coloured jacket.
PC Kevin Martin said: "It happened in a busy car park and I am extremely confident that a number of shoppers would have seen this incident.
"I also want to hear from anyone who saw a black Ford Galaxy, with a damaged front end, speed off from the scene and drive towards Benchill."