Jade Anderson death: Dog owner charged with animal cruelty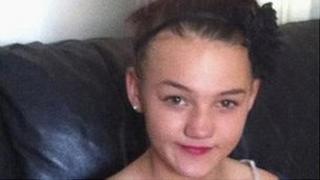 The owner of four dogs which mauled a teenage girl to death in Greater Manchester has been charged with animal cruelty.
Jade Anderson, 14, died after being attacked while visiting a house in Atherton, near Wigan, on 26 March.
Beverley Concannon, 45, of Almond Grove, Wigan, has been charged with three offences under the Animal Welfare Act 2006.
She is due to appear before Wigan Magistrates' Court on 1 October.
The four dogs were humanely destroyed by armed police following the discovery of the teenager's body.
'Insufficient evidence'
The charges follow investigations by the police and RSPCA into Jade Anderson's death.
The Crown Prosecution Service's (CPS) branch crown prosecutor Elizabeth Reed said there had been "insufficient evidence" to bring a charge of manslaughter by gross negligence against Ms Concannon.
She said: "I considered whether it was possible to bring any charges under the Dangerous Dogs Act and concluded that as the four dogs are not prohibited breeds and were not out of control in a public place, it is not possible under the legislation."
She said the CPS had given the investigation "the meticulous attention it deserves and have considered all possible prosecution outcomes".
The charges relate to the conditions in which Ms Concannon kept the four dogs and her failure to exercise reasonable care and supervision of them.