Salford Royal Hospital: 'Poor hygiene' in kitchen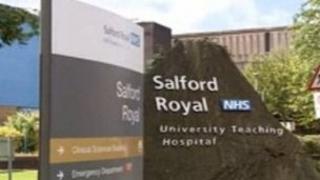 A kitchen in a Greater Manchester hospital where food is prepared for patients has been criticised for poor standards of hygiene.
Salford Royal Hospital was inspected by the city council on 27 August and given its second lowest hygiene rating.
The hospital said "immediate action" had been taken and an internal investigation had been launched.
The council said it would work with the hospital to "ensure that food hygiene is at the best possible standard".
Simon Neville, director of strategy and development at Salford Royal, said there was no evidence patients had been affected.
However, he said the visit highlighted "a number of deficiencies" regarding food hygiene.
"We have a responsibility to our patients to provide them with food that has been prepared and stored in an environment of the highest standards of safety and cleanliness," he said.
"We have taken this matter very seriously and were extremely concerned about the environmental health office's findings that standards in our patient kitchen at that time, although safe, were well below what they should have been and what we expect of ourselves."