PC Gareth Francis's killer jailed for manslaughter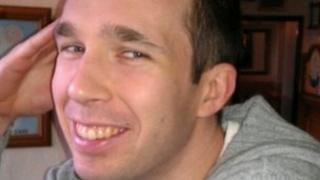 A man has been jailed for killing an off-duty police officer who died when he hit his head after being punched.
PC Gareth Francis, 28, was attacked as he walked home from a night out with friends in Edgeley, Stockport, in January.
Westley Holland, 21, of Laburnum Way, Stockport, was found guilty of manslaughter by a jury at Manchester Crown Court.
He has been sentenced to four-and-a-half years in prison.
The Crown Prosecution Service (CPS) said the case showed "how much damage one punch can cause".
'Tragic waste'
Senior Investigating Officer Duncan Thorpe, said:"While Holland may not have intended to take Gareth's life, once he took the decision to punch him he was reckless to the potential consequences and did nothing to assist him after he had fallen to the ground.
"His single punch has led to a tragic waste of a young life and he will now spend the rest of his life living with the consequences."
Mr Francis had been celebrating his 28th birthday by watching a Manchester City football game with his father and some friends, followed by a night out in Manchester city centre.
After getting a taxi back to Edgeley, Mr Francis and three friends got into an argument with Holland and his friends after seeing them outside a takeaway.
There was a history of disputes between the two groups, police said.
'Propelled backwards'
Holland and his friends later went looking for their rivals and another argument took place, during which Holland punched Mr Francis in the face and walked away, officers added.
The force of the blow "propelled him backwards, his head crashing into the pavement".
Bystanders and people in the nearby Sir Robert Peel pub tried to help Mr Francis and called an ambulance, but he died in hospital shortly after.
Charlotte Rimmer, of the CPS, said: "Although no outcome can compensate Gareth's family and friends for their devastating loss, I hope that they can find some comfort in the fact that the person responsible has now been brought to justice."