Michael Le Vell 'celebrity witch-hunt' suggestion denied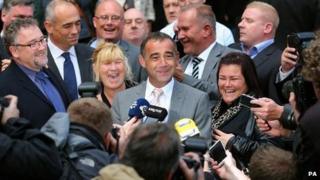 A top prosecutor has denied Coronation Street actor Michael Le Vell, who was cleared of abuse charges, fell victim to a "celebrity witch-hunt".
Nazir Afzal, of the Crown Prosecution Service, said: "Nobody should be above the law".
He said cases were assessed on merit regardless of public profile.
During Mr Le Vell's trial it was suggested the amount of recent celebrity prosecutions may have led the jury to think it was a "witch-hunt".
The 48-year-old, who plays Kevin Webster in the soap, was cleared of 12 charges including rape and indecent assault at Manchester Crown Court on Tuesday.
'World gone mad'
Prosecutor Eleanor Laws QC told the jury not to link the case to other high profile child sex abuse cases.
She said: "Before we started this trial, some of you may have thought there seems to be a lot of prosecutions of celebrities.
"'Is there some kind of witch-hunt? Has the world gone mad?'
"No-one likes to think that someone they liked or admired has done anything like this."
Speaking at a conference in Blackburn on grooming and child sex exploitation, Mr Afzal, chief crown prosecutor for the North West, said cases were taken to court based on what evidence exists and whether there was a realistic prospect of conviction.
Mr Afzal made the initial decision not to charge Mr Le Vell after he was first arrested in September 2011, but that was later overruled by Alison Levitt QC, the principal legal adviser to the Director of Public Prosecutions for England.
He said: "I absolutely detest this word 'witch-hunt'. It is not a witch-hunt.
"We look at the evidence. We follow the evidence. We present the evidence.
"I am not shy about pursuing these type of cases and will continue to do so.
"Invariably if it is child sexual abuse it will be in the public interest to prosecute it."
'Right decision'
Director of Public Prosecutions Keir Starmer QC defended the decision to proceed with Mr Le Vell's prosecution.
He told MPs on the Home Affairs Select Committee: "A proper assessment was taken in the case, the decision to proceed was the right decision."
Mr Starmer said there was a "safeguard" in the criminal justice system, which allows for a judge to halt proceedings at the end of the prosecution's case if he or she determines there is no case to answer.
The case has reopened the debate on whether defendants in sex abuse cases should be granted the same anonymity as complainants.
Mr Starmer said he believed defendants should be named once charged and should not remain anonymous.