Hovis bakery worker's walkout in Wigan continues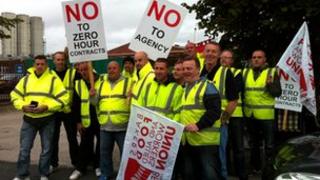 Production staff at Wigan's Hovis bakery have walked out for a second time in a row over contracts and pay.
Staff were balloted for strike action over the introduction of agency staff and a reduction in hours.
Hovis said limited use of agency labour was "commonplace" and all zero hours staff had now been made permanent.
Last week, the Bakers, Food and Allied Workers Union (BFAWU) warned shoppers would see a reduction in bread and crumpets in stores due to the walkout.
Geoff Atkinson, from the BFAWU, said: "This has always been a locally run site, by the local people. There's many families that work on this site.
"If the hours are there, they should be permanent hours and not covered by agency labour."
He added: "All our workers on this site took a drop in hours and in money to protect permanent employment on this site, not to protect zero hour contracts and agency labour."
'Cover seasonal peaks'
The walkout follows 26 redundancies in April, with a further five expected in October and a reduction in hours allowed from 52 to 40 per week.
Richard Johnson, from Premier Foods, which owns the Hovis brand, said agency labour was not being used to replace redundancies.
He said: "We no longer have any zero hours employees at Wigan.
"What we do reserve the right to do is use agency labour to cover seasonal peaks, holiday and sickness absence in the same way we do at all our other bakeries.
"Given the loss of volume at the Wigan site, we had to make some redundancies.
"However, when there's a short term blip in worker needs we need some flexibility to cover that. When there's a shortage of labour you have to keep production going."