Actor Michael Le Vell's accuser has 'no reason to lie'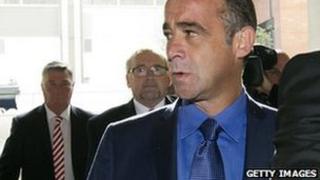 A girl allegedly abused by Coronation Street actor Michael Le Vell has "no reason to lie", a court has heard.
Mr Le Vell, 48, on trial under his real name Michael Turner, denies 12 child sex offences, including five of rape.
The prosecution urged the jury to mark the girl's courage with finding Mr Le Vell guilty, while the defence said that her account was "inconsistent".
As the jury retired to consider its verdicts, the judge warned: "Do not allow sympathy to cloud your judgment."
No previous arrest
Judge Michael Henshell said he was not expecting any verdicts immediately, adding: "There is no question of you being rushed."
He said the alleged victim's state of mind and maturity at the time of the allegations should be taken into account.
Mr Le Vell, he added, deserved to be treated as a man of good character, having not previously been arrested.
The girl, who cannot be named, has alleged she was abused from the age of six until she was 14.
Mr Le Vell, from Hale in Greater Manchester, denies five counts of rape, three of indecent assault, two of causing a child to engage in sexual activity and two of sexual activity with a child.
At Manchester Crown Court, prosecutor Eleanor Laws QC told the jury to remind themselves of the evidence the alleged victim gave earlier in the trial.
'Absolutely the truth'
She said: "The reality was that there was no reason for her to lie. It is absolutely the truth, there is no other reason that holds water.
"You remember her as bubbly, lovely, naive, so lovely... she was not twisted".
Miss Laws described Le Vell as a "troubled man".
She said: "Bear in mind what this witness has put herself through over a long period of time.
"What has she got to gain from all of that? Absolutely nothing, unless it is the truth and that is what she wants to tell you."
Alisdair Williamson, giving the closing speech for the defence, reminded the jury of the lack of "forensic evidence" presented by the prosecution.
He said: "You are going to throw a man's life away? You are going to cast him to the outer darkness of being a child rapist?
"Where is the consistency, the solidity of evidence on which you are going to be sure? Not there, simply not there."
'Story varies'
Mr Williamson accused the girl of including "silly" or "ridiculous" details in her story which, he said, "doesn't add up".
"There's an agonising lack of detail from this witness," he said.
"She can't give you details because it did not happen and that's why her story varies according to who she's talking to."
Summing up the trial, Judge Henshell said the jury's assessment of the alleged victim was "critical in this case".
He said if the Crown was right and she was a truthful witness then she was someone who was recalling traumatic events from an early age.
The other side of the coin was that she was "dishonest" and had come to court to "quite literally destroy" the life of the defendant, the court heard.
The jury is due to resume its deliberations at 10:30 BST on Tuesday.