Michael Le Vell says 'dark secrets' were affairs, not child abuse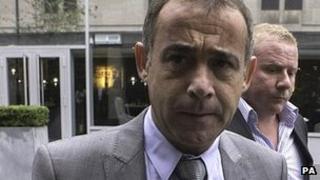 Actor Michael Le Vell has told a court "dark secrets" he admitted to were one night stands, not child abuse.
The 48-year-old, on trial at Manchester Crown Court under his real name Michael Turner, denies 12 offences against a young girl, including five of rape.
The Coronation Street star told the jury conversations he had about "something unforgivable" were concerned with extra-marital affairs.
He said he "totally" disagreed it was something "far more sinister".
The girl, who cannot be named, has alleged she was abused from the age of six until she was 14.
Mr Le Vell, from Hale in Greater Manchester, faces five counts of rape, three of indecent assault, two of causing a child to engage in sexual activity and two of sexual activity with a child.
'Luxury, charmed life'
Prosecutor Eleanor Laws QC told the jury about a conversation the actor, who plays Kevin Webster in the ITV drama, had with an unnamed person concerning "secrets".
Mr Le Vell said he told them he had "had a few one night stands".
Ms Laws continued with the suggestion Mr Le Vell had told the person they would not believe "what things are inside my head".
"You said that?", asked Miss Laws.
"No," he replied.
The barrister continued: "It would be a very odd thing to have said if you were talking about one-night stands."
The actor said: "It would not make sense."
Miss Laws said: "I am going to suggest to you that what you were referring to was the abuse that was going on?"
"No, not at all," he replied. "There was no abuse going on."
Mr Le Vell agreed his job had led him to be "cocooned" and live a "luxury, charmed life", but denied Ms Laws' assertion he was also "troubled".
The case was adjourned until Monday.