Police killer Dale Cregan moved to secure Ashworth Hospital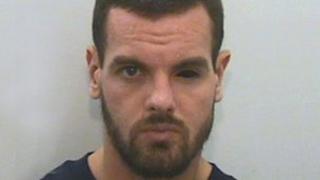 Police killer Dale Cregan has been moved from jail to the maximum-security Ashworth Hospital.
Cregan, 30, was given a whole-life sentence in June for murdering PCs Fiona Bone and Nicola Hughes as well as father and son David and Mark Short.
He has been on hunger strike for a month and was put in a hospital wing on Thursday, the BBC understands.
Cregan killed the two PCs in a gun and grenade attack after luring them to a house in Mottram, Greater Manchester.
He also admitted the murders of David and Mark Short after a decade-long feud between families.
'No interest'
Asked about the move to the Merseyside hospital, Greater Manchester Police chief constable Sir Peter Fahy said he "couldn't give a toss about Mr Cregan".
He said: "I hope that the press do not treat him as some sort of celebrity.
"I've got no interest in him at all - he's going to be locked up for the rest of his life [and] where he is, I don't care."
Ashworth Hospital is one of three high-security psychiatric hospitals in England, along with Rampton and Broadmoor.
It has capacity for 228 patients and currently houses about 190 men, who are all individually monitored 24 hours a day.
Moors murderer Ian Brady has been held at the hospital since 1985 after he was diagnosed as a psychopath.