MP calls Manchester Police crime stats 'shocking'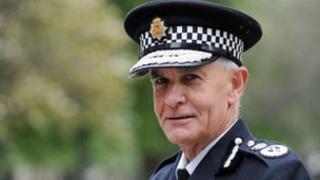 An MP has said the failure of Greater Manchester Police (GMP) to investigate 60% of reported crime was "shocking".
Graham Stringer, Labour MP for Blackley and Broughton, said the figure will "surprise" the public and lead to a loss of confidence.
Chief Constable Sir Peter Fahy said his officers could only concentrate on about 40% of crime, a strategy also "adopted" by other forces.
He said all crimes were assessed to see if a "line of inquiry" existed.
Mr Stringer has called for the chief constable to justify the "extraordinary" figure.
He said: "I have no problems with the police prioritising which crimes they think can have successful outcomes and prosecutions.
"I just think the figure needs more justification than what the chief constable has been willing to give at the present time.
"I think that taxpayers in Greater Manchester will think they are not getting value for money if nearly two out of every three crimes are being left with no police action at all.
"It feels as though burglaries are being completely de-prioritised because they are difficult to follow up."
'Targeting offenders'
The MP said he will be asking for a breakdown of the figure into separate categories of crime.
Data released in July showed that crimes recorded by police in England and Wales fell by 7% in the year to March 2013.
Speaking on BBC Breakfast, Sir Peter said all crime reported to police was investigated "to a degree".
He said: "We look at every crime when it is reported, whether there is a line of inquiry - it might be around witnesses, house to house, forensic, CCTV, but if there is no reasonable line of inquiry, I don't think the public would expect us to pursue that.
"It's about the strategy that we have adopted in British policing which has led to a halving of crime over the last 10 years.
"That's a balance between of investigating crime after it has happened and targeting known offenders. Most crime is committed by a relatively small group of persistent offenders."