Greater Manchester Police does not investigate 60% of crimes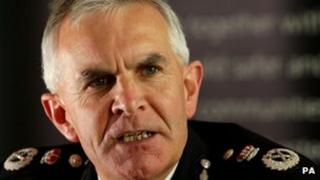 The head of one of the UK's largest police forces has said that more than half of all crimes reported to his officers are not investigated.
Sir Peter Fahy, chief constable of Greater Manchester Police, said his officers were only able to concentrate on about 40% of reported crime.
He said GMP followed a strategy also "adopted" by other forces and recorded crime had halved in 10 years.
He stressed all reports were assessed to see if a "line of inquiry" existed.
Data released in July showed that crimes recorded by police in England and Wales fell by 7% in the year to March 2013.
Speaking on BBC Breakfast, Sir Peter, who is also a vice-president of the Association of Chief Police Officers, said all crime reported to police was investigated "to a degree".
"We look at every crime when it is reported, whether there is a line of inquiry - it might be around witnesses, house to house, forensic, CCTV, but if there is no reasonable line of inquiry, I don't think the public would expect us to pursue that.
"It's about the strategy that we have adopted in British policing which has led to a halving of crime over the last 10 years."
He added: "That's a balance between of investigating crime after it has happened and targeting known offenders. Most crime is committed by a relatively small group of persistent offenders."
In April, Tom Winsor, the chief inspector of constabulary for England and Wales, said focusing on would-be offenders, likely victims and potential crime hotspots in future would save taxpayers' money and keep more people safe.
'Intelligent policing'
The GMP has faced cuts of £145.5m in the four years to 2015, with officers falling by 19%.
However, recent figures show most recorded crime has fallen by 19%.
Sir Peter first revealed details about the percentage of cases GMP "actively pursued" at a public meeting.
In a later statement, he said: "In the same way that the health service concentrates on the most serious illnesses and the treatments likely to have most effect, the police have to concentrate on the most serious crimes and those where there are lines of investigation likely to produce evidence of the offender.
"In practice, this translates into about 40% of crime being actively pursued at any time.
"We look at all crimes to identify patterns of offending and to build the picture of where we need to target police patrols. In many crimes there are no witnesses, no CCTV and no forensic opportunities."
Tony Lloyd, the force's Police and Crime Commissioner, said: "Let me be clear that I expect, and the chief constable expects, that with all serious crime no effort will be spared to bring the criminals to justice.
"What I don't expect is where there are no witnesses or no evidential trail that the police go through a paper chase to simply tick boxes, but instead use intelligent policing to prevent a recurrence of those types of crime."
The chief executive of the charity Victim Support said it was for police to decide "how best to catch criminals, and prioritise their resources".
Javed Khan added: "For victims and the public to have confidence in the police, they need to know that, when they make a report, it will be taken seriously and adequately assessed.
"Likewise, any decisions to pursue or otherwise must be properly explained to them."