Bury streets packed for fireman Stephen Hunt's funeral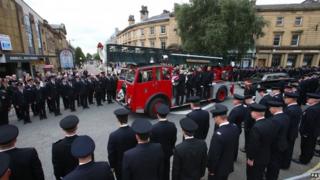 More than 1,000 fire officers, emergency services personnel and public have lined the streets of Bury for the funeral of firefighter Stephen Hunt.
The 38-year-old father-of-two died tackling a fire at Paul's Hair World in Manchester on 13 July.
Mr Hunt's coffin was taken to Bury Parish Church in a fire engine led by a piper and two standard bearers.
Representatives carrying flags of fire services from around the UK formed a guard of honour along the route.
Colleagues from Philips Park Blue Watch carried the coffin, draped in the union jack, into the church.
'My hero'
During the service, Mr Hunt's teenage children paid tribute to their father.
Sam, his son, said: "To me, he wasn't just my dad but my hero, my role model and my best friend."
He added: "I didn't know how popular and respected my dad was until a month ago, when we started getting endless messages and cards - even from people we didn't know".
Daughter Charlotte said they would remember him for his "love of life and infectious smile".
She said: "Steve was our dad. A lover of milk bottle sweets, the ladies, and the only man we knew who ironed his underpants.
"He was warm, kind, loving, funny, and meticulous to the point of frustration. His motto was, 'If it's worth doing, it's worth doing right' - and he meant it".
Mourners sang I Vow To Thee My Country and Jerusalem, with prayers led by the chaplain of Greater Manchester Fire Service.
'Great team member'
The service ended with the playing of Blue Moon, the anthem of Manchester City Football Club, who Mr Hunt followed.
Family and close friends then attended a private committal.
County Fire Officer Steve McGuirk described Mr Hunt as a "lovely guy and a great member of the team".
He said: "Every single fire and rescue service in the country has representatives here, with 25 chief fire officers attending.
"Given that there's 46 fire services in the country, it gives an illustration of just how close the fire and rescue service community is."
He added: "We do all know each other, and we have also had condolence messages from all over the world."
In a statement, Stephen's mother Susan Veevers said: "Our family has lost a great man and our pain is indescribable.
"Our only comfort is the wonderful memories we have of Stephen."
"We were all exceptionally proud of Stephen, not just as a firefighter but as a loving son, caring brother and his prized and most important job - being the very best a father could be."
An investigation into the blaze, on Oldham Street, is under way.