Victoria Baths fair marks Restoration win anniversary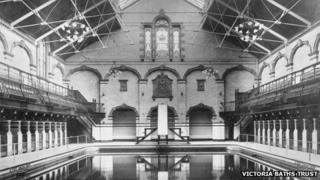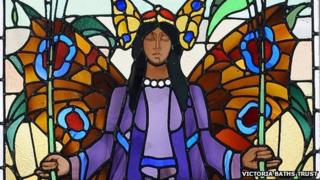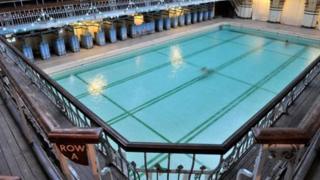 A history fair at Manchester's Victoria Baths is launching a month of events celebrating the 10th anniversary of winning the BBC's Restoration show.
The Grade II listed building secured £3.4m when it won the first series of the Restoration programme.
The money went on maintaining the building but project manager Gill Wright said a further £20m was required to complete the restoration plans.
"The events will showcase its dramatic transformation in a decade," she said.
While Ms Wright said she was disappointed the Turkish bath suites and one of the public pools had not been opened yet, she said she very proud of what had been achieved by the trustees in restoring the building back to its Edwardian splendour.
She said: "The restoration has been on a huge scale and there is still a long way to go but the work done so far has been amazing.
"Great progress has been made over the last decade."
A new "AQUA" stained glass window in the gala pool is being officially unveiled on Wednesday.
Ms Wright said the pool was being filled and synchronised swimmers Aquabatix would be performing for the occasion.
On 12 September there is a cello concert by Around Britten.
Between 13-15 September there are heritage open days when visitors can tour the building, take part in archaeology activities and see a glass exhibition by the Northern Contemporary Glass Society.
This annual heritage open day initiative is organised by English Heritage and gives the public free access to historical sites.
More than 280,000 viewers voted for the baths project in the Restoration contest in 2003.
The complex on Hathersage Road was built for the poor of inner Manchester between 1903 and 1906.
On opening the baths in 1906, the Lord Mayor described it as a "water palace" of which "every citizen of Manchester was proud".
It featured three pools, 64 wash baths, and Turkish and Russian baths.
Despite opposition, the council closed the baths in 1993.