'Fraud' soldier David McIntyre granted further extradition appeal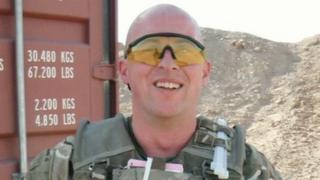 A soldier who said he would take his life rather than face fraud charges in the US has had his extradition halted pending a fresh High Court appeal.
David McIntyre, 42, from Hyde, Greater Manchester, is accused of overcharging for security services in Iraq.
Mr McIntyre, who denies the charges, says he has post traumatic stress disorder. His appeal was made possible due to changes in extradition laws.
The Home Secretary insisted last month the extradition must go ahead.
Mike Evans, of Kaim Todner solicitors, said it would be a real injustice for him to be extradited with his high risk of suicide and untreated post-traumatic stress disorder.
'Plea bargain victim'
He said: "I remain hopeful that the High Court will respect Dave's right to life, protect him from inhuman or degrading treatment or punishment, and recognise his right to a private and family life, by rejecting his extradition.
"This would pave the way for a domestic investigation and prosecution if there's sufficient evidence to warrant one."
The eight counts of fraud relate to claims he overcharged a US peace group $100,000 (£65,000) for a security contract when he was running his own firm, Quantum Risk, between December 2008 and 2009.
If convicted, Mr McIntyre, who has served in Afghanistan, Bosnia and Northern Ireland, could face up to 20 years in jail in the US.
Mr McIntyre believes he is the victim of a plea bargain in which a US official, accused of similar offences, named him to secure a lenient sentence.
Under changes to extradition laws, brought in earlier this year, permission can only be granted on human rights grounds where the appeal is "necessary to avoid real injustice" and the circumstances are "exceptional", a Kaim Todner spokesman said.