Greater Manchester Police settles anti-EDL protester claims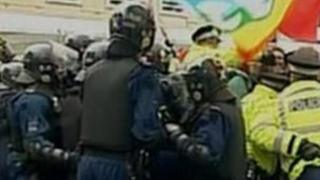 Greater Manchester Police has paid out "five-figure sums" to demonstrators who claimed they were ill-treated by officers at a rally.
Dozens of arrests were made at the anti-English Defence League rally in Bolton in 2010.
The Justice4Bolton group claimed members were wrongfully arrested and officers were heavy-handed.
The force said it has settled a small number of civil claims out of court without admitting liability.
Justice4Bolton said three of its members received five-figure payouts from GMP.
'Extreme violence'
Solicitor Michael Oswald, acting on their behalf, said: "It is a reflection of the bravery and tenacity of our clients that, more than three years after the attempts made to criminalise their peaceful opposition to the racist EDL, they have by way of these settlements finally been able to achieve the accountability and vindication they have sought."
The three campaigners had launched civil claims for false imprisonment, assault, homophobic abuse and malicious prosecution.
One claimed he was seriously wounded by a police dog used as a weapon by an officer.
Police said several people were convicted of a variety of offences following the rally.
A GMP spokesman described the event as "an extremely difficult and challenging situation against large groups engaged in committing disorder and acting, at times, with extreme violence towards the police".
The case against protester Alan Clough, 63, accused of using threatening behaviour, was dropped after a video appearing to show him being punched by a police officer emerged.
Two officers were charged with perverting the course of justice, with one later acquitted and the case against the other thrown out.