Paralympian Tony Griffin's 'debt to mother'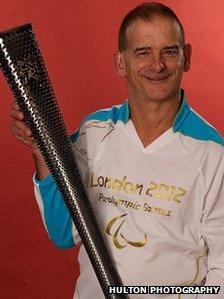 Tony Griffin was one of Britain's most decorated Paralympians - winning 14 medals during his career. Here he describes how London 2012 has changed public perceptions of disabled sport forever - and how his success was all down to his mother.
Griffin was born in Bolton in 1960 with cerebral palsy but says his mother was determined he would not let it be an obstacle.
"She treated me like any other child," he says. "I was encouraged to play with the other children on my street and I was treated exactly the same.
"Had she not done that, I would not be the man I am today."
After her death in 1989 - five years after Griffin won two golds at the 1984 Paralympics - he decided the medals should be buried with her.
"My mother was the driving force behind everything I had achieved in sport, so I put my medals in with her.
"It was maybe emotional madness at the time, but I felt it was the right thing to do."
During the Los Angeles Olympics in 1984, Sebastian Coe made headlines around the world by becoming the first man to win consecutive gold medals in the 1500m. During the same year, Griffin set two world records at the Paralympic Games in the javelin and club throw events.
Now, a year on from London 2012, he feels last year's Games has had a positive effect on disability sport in the UK. He says there has been a vast improvement since his first Games at the age of 16.
"My mother wrote to the Daily Mirror in 1976 saying, 'my son is going to the Paralympics, are you going to treat him like the star that he is?," he says.
"She received a polite letter back, basically saying the public were not ready for it."
While the media's coverage of disabled sport has changed radically since those days, Griffin thinks there is still much more improvement to be made.
"Paralympic athletes are the same as Olympic athletes," he says. "When you switch your television on now, you often see Jessica Ennis-Hill. Why aren't we seeing Ellie Simmonds, for example? It's up to the media to make it happen."
Disability charity Scope has called the London 2012 Paralympic success a "breakthrough moment" but warned that "the jury is very much out" on whether disabled people's lives have improved since.
"In my opinion, London 2012 was the birthplace of the Paralympic athlete - athlete first, disabled second," Griffin says.
"London 2012 has put the focus on disabled people as athletes and I think public opinion has changed. I think grass roots disabled sport has also changed, as the dream is to be in the Paralympics. That dream can become a reality because of London 2012."
Griffin now promotes sport within English schools. Ahead of the London 2012 Paralympic Games, he lit the cauldron in Stoke Mandeville and took part in the opening ceremony as an aerial performer. His image features on the 30m high Spirit of Sport sculpture in Bolton, along with hundreds of other local sporting heroes.
Related Internet Links
The BBC is not responsible for the content of external sites.