Hovis bakery workers in Wigan strike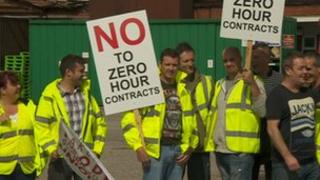 More than 200 production staff at Wigan's Hovis bakery have begun a week-long strike in a row over contracts and pay.
Shoppers will see a reduction in bread and crumpets on shop shelves due to the walkout, the Bakers, Food and Allied Workers Union (BFAWU) said.
Staff balloted for strike action over the introduction of agency staff and a reduction in hours.
Hovis said limited use of agency labour was "commonplace".
The company also said it would continue to supply products using its bakery network to avoid disruption to customers.
The walkout, which began at 06:00 BST, follows 26 redundancies in April, with a further five expected in October and a reduction in hours allowed from 52 to 40 per week.
The Wigan factory is the only producer of Hovis crumpets, the BFAWU said.
A spokesman for Premier Foods, which owns the Hovis brand, said: "We are disappointed that we have not been able to resolve the dispute and will continue to search for a satisfactory outcome.
"The limited use of agency labour to cover seasonal peaks, holiday and sickness absence is an integral part of our operational flexibility that is understood and accepted by all our other sites.
"It is not, and has never been, our intention to replace full-time staff with agency labour at our Wigan bakery."