Middleton grandmother saves toddler after arson attack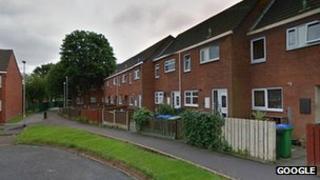 A three-year-old girl was rescued by her grandmother after arsonists started a fire through the letterbox at the woman's Greater Manchester home.
The 42-year-old woman was woken by smoke alarms after the blaze started at the house in Great Arbor Way, Middleton at about 23:00 BST on Thursday.
Police said she "grabbed" the sleeping toddler and escaped past the fire. Both were treated for smoke inhalation.
An investigation into the fire is under way.
Det Sgt Diane Johnson said the fire had been put out by neighbours following the pair's escape.
She said the attack, which lit the curtains at the woman's front door, had been a "terrifying experience".
"This woman woke to find herself in immediate danger [and] she has no idea why this happened."
She added that "nobody saw the offenders" and police wanted to hear from anyone with information.