Bredbury fire 'could take a week' to put out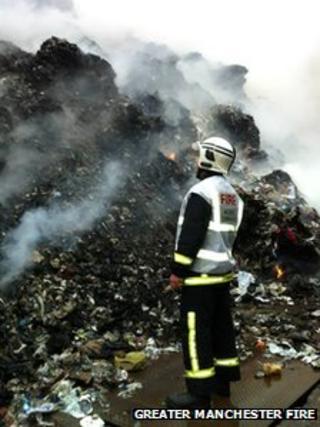 Fire crews may be tackling a blaze at a Greater Manchester recycling plant "for up to a week", the fire service said.
The fire started on Tuesday night in Bredbury, Stockport. About 50 firefighters were dealing with the blaze at its height.
A spokesman said the fire, involving several hundred tonnes of burning paper and plastic, was under control but still "burning away".
About 35 firefighters remained at the scene overnight into Thursday morning.
It is still unclear how the blaze, spread over a 1 hectare (2.5 acre) area, started.
'Could easily collapse'
Steve Sheridan, from the fire service, said they had been "dampening down and turning over the burnt waste to try and eliminate hot spots".
He said: "During the hours of darkness we had to pull our crews back a little for safety reasons but we continued to put a large amount of water on the fire from above.
"The biggest risk was the bales of waste which could easily collapse, so I had to put firefighter safety first."
He added: "The smoke plume has dropped down slightly because of a switch in the weather and it's blowing close to the M60 motorway so we're working closely with the Highways Agency to keep motorists safe."
Air samples taken at the site were found to be non-toxic, with scientists now working to test the dust and debris that is settling.
Tameside Council told residents to contact their GP if they have any concerns about the smoke's impact on their health.
A spokesman said: "Smoke from any source may contain substances that irritate the lining of air passages, eyes and skin - making the eyes and throat sore and possibly worsening any breathing or heart conditions."
The council added there may be some disruption to waste collections, as the Greater Manchester Waste Disposal Authority recycling facility closed temporarily during the fire.