Hulme Barracks dig uncovers single shot Bovril bottles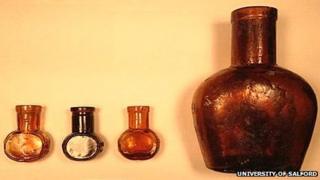 Several single shot bottles of the beef extract drink Bovril have been found during an archaeological dig at a former hussars barracks in Manchester.
The "unusual relics" were uncovered along with clay pipes and uniform buttons at Hulme Barracks.
The site was home to the 15th King's Hussars from 1804 to 1895, before housing infantry battalions until 1915.
Archaeologist Brian Grimsditch said the drink, first made in 1871, would have been a "godsend on a drizzly night".
The drink was originally known as Johnston's Fluid Beef, before being renamed in 1886.
The Hulme site was occupied by the military from 1804 to 1915 when it was sold to the Manchester Corporation.
The bottles were found along with a number of other items during excavations by local volunteers of the site's former canteen, riding school and terraced houses.
Mr Grimsditch, senior archaeologist at the University of Salford, said it was "through this sort of detail that our volunteers gain a connection with the people who lived in their communities hundreds of years ago".
"Items like this bring the lives of people living in the city during the 19th Century to life," he said, adding the bottles were "unusual relics of Britain's military might during the 19th century."
The 15th King's were a notorious company, who were responsible for the Peterloo Massacre in 1819, which saw them charge reform campaigners in Manchester's St Peter's Field, leaving 15 dead and 700 injured.
The incident was remembered in Percy Bysshe Shelley's political poem The Masque of Anarchy, which was recently performed by actor Maxine Peake as part of the Manchester International Festival.