Tameside late-night alcohol levy could net council £180k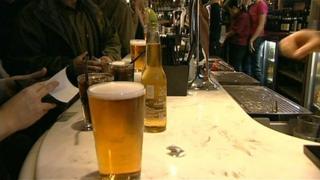 Pubs, clubs and supermarkets which sell alcohol after midnight could face a late-night levy in Tameside.
Council bosses estimate it could raise more than £181,000 a year from 220 licensed premises across nine towns.
The council is launching a three-month consultation on the Big Conversation section of its website.
Councillor Catherine Piddington said late drinking was putting a strain on police resources, but one licensee said it was "just one more expense".
Money raised through the levy would go towards paying for more late-night police in town centres, more cleaning staff, funding taxi marshals during busy periods, and support for street pastors.
'Midnight deadline'
Ms Piddington, executive member for environmental services, said: "This trend towards later and later nights out means the police are finding themselves dealing with disorder from midnight through to six or seven in the morning, which is putting an increased strain on their resources."
But some licensees were sceptical about the plan.
"It will do nothing for us, it is just one more expense," said one bar manager from Ashton-Under-Lyne.
Tony Lloyd, Police and Crime Commissioner for Greater Manchester, welcomed the move.
He said it had "the potential to help deal with the problems that do occur in the borough and could help develop schemes, such as places of safety, to ensure a vibrant nightlife in Tameside, but also make sure that everyone has a safe night out".
Tameside Ch Supt Nick Adderley said: "The late-night opening of licensed premises does cause a strain on resources as officers regularly respond to drink-related incidents in certain hotspots across the borough, often until 6am.
"We need to see how these issues can be best resolved and this levy may be one solution."
Places affected by the levy will have the option to stop selling alcohol before the midnight deadline - the charge will cover the period from midnight to 06:00.
Smaller premises would pay just under £6 a week while the largest venues and supermarkets would pay £29 a week.
If agreed, the charge would come into force from 1 April 2014.