On-the-run Stockport VAT fraudster given jail sentence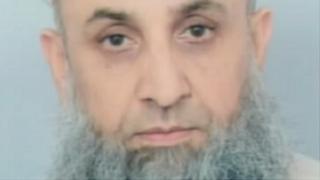 An on-the-run Stockport man who committed an £800,000 VAT repayment fraud has been sentenced to three-and-a-half years in jail.
Muhammad Tanwir Khan, 58, submitted more than 350 false invoices linked to fictitious exports to Pakistan, HM Revenue and Customs (HMRC) told Manchester Crown Court.
Khan featured on the HMRC's 20 Most Wanted list on 9 August.
He went on the run in May following his conviction for fraud.
The tax office said a warrant for his arrest was issued on 17 June when he failed to appear in court.
'Couldn't justify claims'
Khan, of Bluestone Drive, Heaton Moor, had his business records scrutinised by HMRC investigators after anomalies with invoices for his import and export company were discovered during a VAT inspection in 2010.
Sandra Smith, HMRC's assistant director of criminal investigation, said officers identified "suspicious trading" by Khan's company Spearpoint Limited of which he was sole director.
She said: "During interviews he couldn't justify or prove his business claims.
"He had been living off stolen VAT repayments for a number of years, using faked paperwork to fraudulently reclaim on average over £100,000 per year."
HMRC said false invoices were submitted between 2006 and 2011 and investigators discovered more than 1,700 suspect documents on his computer.
It said a confiscation hearing would be held in due course.