Hundreds of competitors tackle Salford Triathlon 2013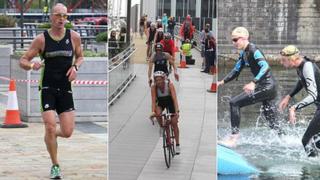 More than 900 competitors have tackled the first Salford Triathlon to take place in six years.
Hundreds of spectators lined the course, which snaked around MediaCityUK and the wider Salford Quays area.
The event featured four separate races, with the longest consisting of a 1.5km swim, 40km bike ride and a 10km run.
Salford Triathlon, partnered with the Christie hospital, is hoping to raise a five-figure sum for BBC Radio Manchester's one million pounds appeal.
Robin Maxwell, an organiser for the event, said it had been a "fantastic day".
He said: "The triathlon sold out two months ahead of today, there has been a significant waiting list.
"We have been lucky with the weather, there has been a really great atmosphere and we've had some really positive feedback."
Laura Bostock, from Salford Quays, finished the course in under two-and-a-half hours.
The 32-year-old said: "It was really good, but painful. It was a technical course with lots of tight corners, so it was quite tricky.
"I swim in the water here about three times a week, so it's like my back garden. It was 19 degrees in the water today, so it wasn't too cold".
Damien Healy, 30, from Stockport, said: "I'm happy but shattered. It was a great course - the bikes are my weakest heat but I did better than I thought".