Breastfeeding flashmob as woman at Manchester pool 'asked to move'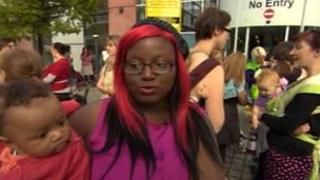 A group of breastfeeding women protested at a Manchester leisure centre after a mother said she was asked to move from the poolside where she was feeding her baby.
Stephanie Wilby said she was asked to go to another location at Manchester Aquatics Centre with her son Leo.
She told the BBC she "felt so embarrassed" and she was "made to feel like a criminal."
About 30 people took part in the protest.
Mrs Wilby said she was just "standing at the side minding her own business" when she was approached by an official.
'Comfortable areas'
Breastfeeding in public is protected by law.
In a statement, Serco said it was not against the rules to breastfeed at the pool.
The firm said it supported breastfeeding at its leisure centres and would "encourage it to take place in comfortable areas such as the cafe rather than the poolside."
The company said it had launched an investigation.