Maxine Peake leads Peterloo Massacre anniversary event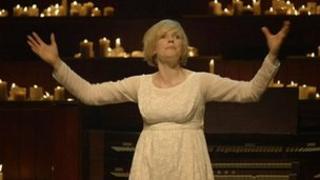 Actress Maxine Peake has read out the names of the victims of a Georgian massacre as part of an annual commemoration in Manchester.
The event marked the anniversary of the 1819 Peterloo Massacre, when hussars charged reform campaigners in St Peter's Field, leaving 15 dead.
The reading was organised by the Peterloo Memorial Campaign.
It took place under a plaque commemorating the massacre on Peter Street.
The charge, which also saw 700 injured, was commemorated Percy Bysshe Shelley's protest poem The Masque of Anarchy.
Peake performed a recital of the poem as part of the Manchester International Festival. Peake said she it had been a privilege to read the names out.
"It is very moving and I still get quite angry about it - there is something about innocent people who came here for the day," she said.