Dig The City garden given permanent home near Manchester car park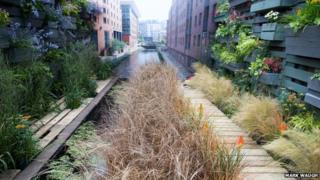 A garden which bloomed along a Manchester street for an urban gardening festival has been given a permanent home in the city.
Dreamscape Gardens' installation, which was on New Cathedral Street for Dig The City earlier in August, will located near a car park on Dale Street.
Organisers of the event said they wanted it to "leave a lasting legacy".
The garden will be tended by the local Northern Quarter Greening Group, who also have grow boxes in the city.
'Enhance the area'
Aaron Cornish from the group said it was "great to have this garden to care for and enjoy as well".
"We've got a thriving green-fingered community here and this lovely new space will enhance the area even more."
The garden, which includes balcony-style planting, a small water feature and a view of the Rochdale Canal near Whitworth Street West, will be located next to the group's grow box allotments.
Dan Newby, the owner of Dreamscape Gardens said he had been "overwhelmed by the positive feedback" during the festival and was "thrilled the garden has found a new home in the Northern Quarter".
Urban gardening festival Dig The City saw show gardens installed across the city centre from 3 to 11 August.