Rochdale water main burst prompts evacuations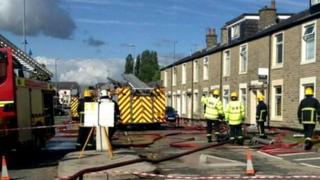 Residents of 20 properties in Rochdale had to spend the night away from their homes after a water main burst on Tuesday afternoon.
A clean up operation is under way, following the incident on Entwistle Road in Hamer.
Greater Manchester Fire service said firefighters have been pumping water from the basements of the properties.
The volume of water also damaged the road, with United Utilities contacting those affected, to assess the damage.