Shot peregrine falcon near Leigh rescued by 'good Samaritan'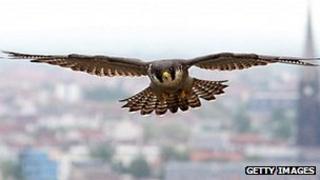 A shot peregrine falcon has been rescued by a "good Samaritan" who found it in distress by the roadside in Greater Manchester, police have said.
The man spotted the injured bird by the A580 near Leigh on Friday and rushed it to a vet in Bolton.
Det Con Randolph Lyle said the falcon had been "shot with a shotgun" and appealed for anyone with information about the shooting to contact police.
Peregrine falcons are protected under the 1981 Wildlife and Countryside Act.
Mr Lyle said the bird had been receiving treatment for its injuries and would be released back into the wild once it had recovered.