Herd of cows from Stockport farm head to housing estate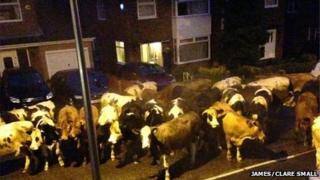 People living on a housing estate in Greater Manchester awoke to find a herd of cows on their doorsteps.
Up to 40 cows are believed to have escaped from Bongs Farm, Stockport sometime before 04:30 BST and congregated at Eastover Road, Romiley.
Resident James Small said neighbours were woken by "mooing" as dawn approached. "It was the funniest wake-up call ever," he said.
Police said the cows have now been safely returned back to the farm.