Call for memorial to Manchester music mogul Tony Wilson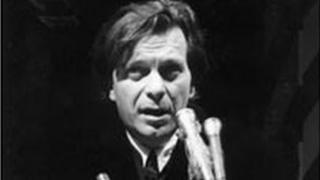 A DJ is calling for a memorial to Manchester music impresario Tony Wilson on the sixth anniversary of his death.
Mr Wilson, Factory Records co-founder, broadcaster and owner of the Hacienda nightclub, died in 2007, aged 57.
Dave Haslam, a former DJ at the city's Hacienda, which closed in 1997, said Mr Wilson should be properly remembered, possibly by naming a street after him.
Mr Wilson, who hosted Granada Reports, was born in Salford and known as Mr Manchester.
He was an influential figure in the Manchester music scene, which saw the city dubbed as Madchester in the late 1980s.
He was also one of the founders of Factory Records in the late 1970s, the label behind Joy Division, New Order and The Happy Mondays.
'Anthony Wilson Way'
Mr Wilson set up the Hacienda on Whitworth Street in 1982, which went on to become one of the county's most famous clubs.
Mr Haslam said: "He made this city a better place, more cultural, more musical, more exciting.
"He opened doors for people; he was a great enabler although he had an ego like everybody else."
Mr Haslam, who is also an author, said it would be a challenge coming up with a suitable memorial in "the spirit of Tony".
"It would be difficult because Tony wasn't sentimental; he wasn't nostalgic," he said.
"I think he found the whole nostalgia of that whole Madchester era a little bit hard to deal with.
"When the Hacienda closed he said 'I don't want it turning into a museum - forget it, let's just draw a line and move on'."
Mr Haslam said a blue plaque should be put up in his honour "at the very least".
He added: "I'm not a fan of statues. I think Whitworth Street West should be called Anthony Wilson Way."