Manchester city centre pubs changing fortunes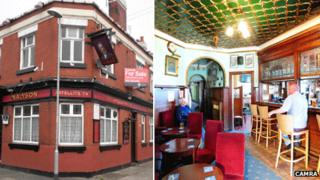 Inner city pubs are an endangered species according to real ale enthusiasts and none more so than in a square mile of central Manchester.
The Stockport and South Manchester branch of Camra (The Campaign For Real Ale) has just awarded Real Heritage Pub status to the recently closed Mawson.
Real Heritage Pub is a certificate Camra uses to promote architecturally significant pub interiors. The certificate is normally displayed inside pubs.
The organisation is trying to persuade its new owners - a nearby Chinese wholesalers - to revive its fortunes.
Campaigners lament that time has been called on the Mawson - one of the few surviving examples of inter-war pubs in the city.
BBC News looks at the contrasting fortunes of four pubs in a square mile of central Manchester.
Mawson
The Grade II listed building, on Frances Street, which closed in the autumn, was rebuilt in 1936-37 and has hardly changed since with its drinking lobby and three other rooms retaining their original fittings and furnishings.
Even the toilets display original tiling and terrazzo floors.
"We are particularly concerned about the Mawson as it is one of only 270 or so unspoilt heritage pubs in the country. It is just too important to lose," said Camra's John Clarke.
Tied beer
Dan Metcalf, author of the blog Pubs of Manchester, said of the Mawson: "Aside from being in a redeveloped and depopulated area, the demographics have changed from mainly locals to a mix with students and immigrants - these new people have less call for a traditional 'local', preferring livelier spots in town or their own groups' company."
But he also blamed the loss of its real ale selection and the "business model of overpriced tied beer."
A tied house is a pub which is required to buy at least some of its beer from a particular brewery or company rather than being an independently owned free house.
The Plymouth Grove
Camra gave up "a long a time ago" on this Grade II listed Victorian building, with its ornate clock, within staggering distance of the Mawson.
Closed for 10 years, it was even used as a cannabis factory causing great damage to the interior.
Mr Metcalf said The Plymouth Grove faced the same problems as the Mawson such as "the improvements in home comforts and technology that mean people have less need (nice front rooms, DVDs, Sky TV, etc) or reason to go to the pub (email, texts, social media, etc.)".
He added: "The Plymouth Grove is also a huge pub, so a few punters rattling around a big empty and expensive-to-run pub is a self-fulfilling prophecy."
The former Ardwick Town Hall, which takes its name from the street it is in, has been bought by a developer who aims to turn it into a Chinese restaurant.
"It will need major investment," according to Mr Clarke.
The Bowling Green
Close to Manchester Royal Infirmary, this former student haven went on the market in December.
"It was doing a healthy trade but when the licensee stepped down he couldn't find anyone to take it on," said Mr Clarke.
He added: "It had an unusual trade pattern as it was quieter in the summer and at Christmas because of the students."
But according to Mr Metcalf the student clientele also proved to be its downfall.
'Lost character'
"This one was killed off by what used to be its lifeline - its proximity to the university," he said.
"What used to be a thriving university pub couldn't compete with the cheaper pubs/bars on the main road."
Mr Metcalfe added the venue made the mistake of trying to modernise by knocking internal rooms into one large space.
"It lost its traditional character which was probably a pull to the university workers and mature students," he said.
The Salutation
Situated in Higher Chatham Street, The Salutation is one of the few success stories in the university area of Manchester.
Traditionally a venue where "town met gown", this pub nestling behind St Augustine's Church was starting to run into trouble five years ago.
The growth of Manchester Metropolitan University (MMU) could have seen it surrounded by university buildings and "cut off".
But MMU handed over management to Trof, which owns several bars in Manchester.
Trof updated the beer and the decor a touch and according to Mr Metcalf, "generally made the pub far more welcoming."
However it is now being run directly by MMU's student union.
"It remains to be seen what new owners Manchester Metropolitan University will do with this pub," said Mr Metcalf.
'Use it or lose it'
The difficulties faced by the four pubs are not unique according to Mr Clarke who said watering holes in neighbouring areas have also faced similar problems.
"Inner city Manchester has lost too many pubs," he said.
But he added popular reasons given for the closures did not tell the whole story.
"The smoking ban has hit pubs but pubs also need to be more proactive," he said. "You can't just open your doors and expect people to come in."
And while pubs need to do more, drinkers also have a role. Mr Clarke added: "The simple message to people is 'Use it or lose it'."