Government 'failed to act' over Manchester and Salford riots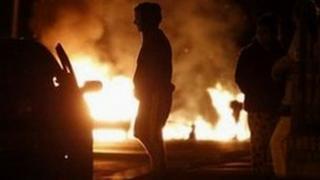 The government has "failed to act" on the causes of the Manchester and Salford riots, the area's Police and Crime Commissioner has said.
The city saw rioting on 9 August 2011, following similar trouble in London.
Tony Lloyd said only 11 of the Riots, Communities and Victims Panel's 63 recommendations had been accepted, showing the government's "contempt" to those "left to pick up the pieces".
Communities minister Brandon Lewis said "practical action" had been taken.
More than 200 people were prosecuted following the riots, which saw businesses damaged in Manchester city centre and Salford Shopping City in Pendleton.
'Completely unacceptable'
Mr Lloyd said it had cost almost £4m to police and investigate what had happened.
The Riots, Communities and Victims Panel, set up to look at the causes and solutions, made 63 recommendations in 2012, including improving standards of education, mentoring convicted youth offenders and giving greater help to young people to carry on in education, get training or find a job.
The government's response to those recommendations, published in July, showed that of the 63, only 11 had been accepted, with 35 being rejected or not implemented, four remaining under review and the fate of 13 being not known.
Mr Lloyd said it was "completely unacceptable" that the panel's recommendations had not been acted on.
He said: "It is an insult to the people who suffered at the hands of mindless thugs two summers ago.
"When the panel was set up, Nick Clegg said it was an opportunity for victims to be heard, but what is the point of the panel spending six months visiting cities affected by the riots if the government then fails to act on the recommendations?"
'Shocking scenes'
He added that people of Greater Manchester had shown "great community spirit in the aftermath of the riots [and] they deserve to be listened to and be given the confidence that the events of 2011 are not allowed to happen again".
Mr Lewis said the panel's "comprehensive report" showed that "in the immediate aftermath of the riots, the government acted swiftly to rebuild affected communities and help people get their lives back on track".
He added: "We took practical action to tackle the problems behind the violence and developed policies which are starting to show real results in dealing with some of the more entrenched issues raised in the panel's report.
"We can all learn lessons from the events witnessed in August 2011 and have a responsibility to ensure that we never see a repeat of those shocking scenes."