University of Manchester scientist names fly after colleague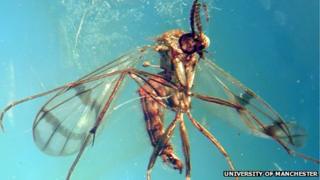 A University of Manchester scientist has recognised his professor's support by naming a fly after him.
Dr Dave Penney found the insect in a 16 million-year-old piece of amber during his work in the Dominican Republic.
After it was confirmed as a previously unknown species, he decided to name the fly Proceroplatus preziosii after Prof Richard Preziosi to thank him for his support.
Prof Preziosi said he was "delighted" to have given his name to the fly.
Dr Penney has been researching amber rocks for about 20 years and has previously discovered over 40 species of insects and spiders, two of which are named after him.
He said that he had "wanted to thank Prof Preziosi, who has supported me throughout my research career at Manchester, and thought this would be a novel way to do this".
He added that the fly, a member of the Keroplatidae family, was the first of its kind to be found on Hispaniola, the island shared by the Dominican Republic and Haiti.
Prof Preziosi said it had been a "real privilege to be able to support Dr Penney's research".
"I am delighted and honoured to have this newly discovered species named after me," he added.