'Double' miscarriage of justice victim Martin Foran speaks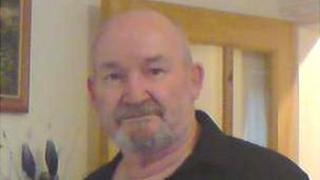 A man who claims to be the UK's only victim of two miscarriages of justice has said he wants an apology.
Martin Foran, 69, an Irish father of five, was convicted of robbery in 1977 - a crime he denies. Within weeks of his release in 1984 he was arrested again and later convicted of robbing a pub in Birmingham.
This second conviction was declared unsafe and quashed by the Court of Appeal in April.
Mr Foran, who is terminally ill with cancer, is awaiting a ruling on the earlier case.
Innocent man
The Criminal Cases Review Commission (CCRC) will rule on the 1977 robbery next week.
Mr Foran's dying wish is to go to his grave an innocent man.
He is annoyed that his wife, Valerie, and children have had their lives overshadowed.
'Physical abuse'
In his ruling at the Court of the Appeal on the 1984 case, Lord Leveson said the CCRC had found problems with "the credibility of the principal police witness, Detective Inspector Paul Matthews... of the now notorious West Midlands Police Serious Crime Squad".
Mr Matthews resigned from the force in 1986 after he was demoted for disobedience. Another officer, Det Con Christopher Preston, kept custody records in his drawer for 14 years.
In the 1990s, a West Yorkshire Police inquiry found malpractice in the force including "physical abuse of prisoners, fabrication of admissions, planting of evidence and mishandling of informants," which led to a series of "unsafe" convictions, such as the Birmingham Six.
Mr Foran said there were problems with the case from the moment he was arrested.
He said that during a court appearance, one of the men convicted of the 1984 robbery said: "What's he doing here? You've got the wrong man."
Mr Addison said the man described an accomplice as "some kid called Martin". At the time, Mr Foran was in his 30s.
Badly beaten
Mr Foran said because of the convictions of the Birmingham Six he claimed many prison officers disliked the Irish and he was physically attacked.
It was "a living hell and no human should be allowed to live like that".
He went on hunger strike and endured beatings, which led to much of his stomach being removed and a priest called to give him the last rites. Returning in agony, he said he was refused further treatment.
Such was his despair, he said he was driven to take a prison officer hostage to force the prison to provide medical care. As a result, he was given extra time on his sentence.
Breaking down, he said it was "like being in the fires of hell for 18 years".
'Where's the justice?'
During the appeal, he was supported by Birmingham Six miscarriage victim Paddy Hill whom he befriended.
After he was cleared, he felt no elation, just anger that it had taken so long to prove he was innocent.
Speaking about the 1984 case, Assistant Chief Constable Sharon Rowe said: "The officers involved in the case have since retired or left the force and a number of lessons have been learned since the original investigation was undertaken in 1985.
"The public should be reassured that West Midlands Police expects the highest standards of professionalism from its officers and staff and as such we have robust management and anti-corruption measures in place."
Mr Foran added: "I don't think my family has got justice. Where's the justice?"