Linzi Ashton death: Funeral takes place at Salford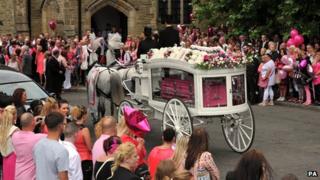 Hundreds of people have attended the funeral of a 25-year-old mother-of-two from Greater Manchester who was killed two months ago.
Linzi Ashton was found dead at her home on Westbourne Road in Winton, Salford, on 29 June.
A man has been charged with her murder, rape and assault.
Her funeral was held at St Paul's Anglican Church, Salford. Following the service pink helium balloons were released in her memory.
Each balloon had a handwritten message attached for the young mother, who died from multiple injuries and pressure to her neck.
The barmaid's eldest daughter, Destiny, aged seven, was comforted by uncles, aunts and grandparents at the funeral, while two-year-old Daisy, cradled by a member of the family, was coaxed into "making a wish for Mummy" before releasing her own pink balloon.
Pink coffin
The service at St Paul's Church near Salford Precinct had a pink theme - the favourite colour of Ms Ashton, who worked at the Duke of York pub, Eccles.
Her friends and family called for the occasion to be an upbeat celebration of the life of the woman who was described by one person as a "typical bubbly blonde".
A horse-drawn carriage bore her bright pink coffin to the church, with mourners wearing shirts, dresses and ties in many different shades of pink.
While a separate hearse was filled with floral tributes, among them flowers spelling out "Sister" and "Mummy".
Ms Ashton's family followed her coffin in to the song Lady Marmalade by Pink, for the start of the service, which included poems read by her close friends and the hymns May The Choirs Of Angels and All Things Bright And Beautiful.
Her coffin was led out to the song Diamonds by Rihanna.
Family and friends hugged each other as the balloons were released, before leaving for a private burial at nearby Weaste Cemetery.