Ashes stewards anger fans by trying to stop children's cricket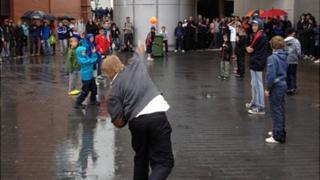 Stewards at the Ashes Test match invoked the ire of hundreds of fans when they ordered a group of children to halt an impromptu game of cricket.
The youngsters began playing behind a stand at Old Trafford during the rain break, but stewards warned them to stop on "health and safety" grounds.
Hundreds of adults gathered round to watch and chanted "Are you Aussies in disguise?" when officials intervened.
The Lancashire club employees were later told to "turn a blind eye".
A spokesman for the county cricket club, which owns the Manchester venue, said he was unaware of the stewards' warning, adding: "I saw the game and thought it was lovely."
The youngsters' impromptu game began after rain stopped play on the final day of the third Test between England and Australia, which ended in a draw and meant England retained the Ashes.
'Ridiculous ruling'
"People were singing at the stewards," said BBC journalist Ian Shoesmith, who was among those watching the game.
He said one adult was ejected from the ground for bowling at one of the children during their game.
The stewards left the game and came back to tell the children stop, saying the head of security wanted the play to end.
"People were telling them, 'This is ridiculous Old Trafford is a home of cricket,'" said Mr Shoesmith.
"Eventually a club official in a suit came up to them and told them to turn a blind eye."
The game ended when play in the Test match was eventually abandoned for the day.