Manchester to use St Petersburg link to 'pressure Russia'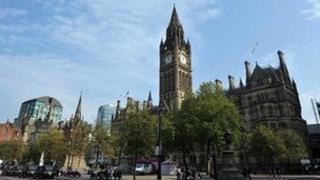 Manchester City Council will use its links with St Petersburg to pressure Russia to reconsider a law banning the promotion of "non-traditional values".
Russia passed the law in June, which makes providing information about homosexuality to children illegal.
Some Manchester businesses had called for the council to consider "untwinning" from the city in response.
Deputy leader Sue Murphy said the city would not be "severing ties", but a protest letter would be sent.
"I'm writing to the governor to express our concerns about the way people are being treated as a result of this legislation," she said.
"We expect anybody that we have a relationship with to respect people's human rights and to treat them properly."
Products boycott
She said the letter also pointed out the benefits Manchester had experienced through its "history of tolerance", including population growth and a reputation as a "leading tourist destination".
The city's relationship with St Petersburg is the oldest formal link the city has with another and dates back to a friendship agreement signed in 1962.
The council's letter follows calls by businesses in the city's gay village to "untwin" and the launch of an online petition, which stated it was "no longer appropriate" to be linked to St Petersburg.
Several of the businesses have also joined bars and clubs in London and North America in boycotting Russian products, particularly vodka brands such as Stolichnaya.
Andrew Underwood, co-owner of the Richmond Tea Rooms which is taking part in the boycott, said he had "withdrawn all of the Russian brands in response to the law".
"I think it's a good signal to give and maybe [the brand owners] will put some pressure on the Russian government to change the law back to the way it was," he said.
'Affects relationships'
He said the boycott had received an "overwhelmingly positive response" and that he believed the council "should untwin us [with St Petersburg] until things go back to the way they were".
Andrew Gilliver, of the Manchester-based Lesbian and Gay Foundation (LGF), said the boycott was "good for raising awareness", but said his colleagues in St Petersburg wanted to "keep the dialogue channels open".
He said it was also important for Manchester to remain twinned with the Russian city, as "every opportunity we have to have a seat at the table" was important as it gave people chance to "bring up this issue with their counterparts".
He added that the LGF welcomed the council's letter, as it "lets them know that these things affect all of us - our relationships and our communities".