Rania Alayed: Police watchdog probes missing woman case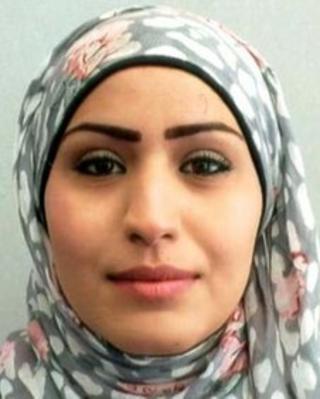 Greater Manchester Police's dealings with a missing mother-of-three are being investigated by the Independent Police Complaints Commission (IPCC).
Rania Alayed, 25, from Manchester has not been seen since early June. Her husband and brother-in-law have been charged with her murder.
Ms Alayed, originally from Teesside, was reported missing on 2 July but police say she was last seen 7 June.
This is the third current IPCC probe into GMP and domestic abuse claims.
The IPCC also said it will examine GMP's involvement with a multi-agency risk assessment process prior to Ms Alayed's disappearance.
'Assess call-handling'
It will also look at GMP's responses to contact from Cleveland Police and if the force complied with previous IPCC local and national recommendations.
James Dipple-Johnstone, IPCC Commissioner for Greater Manchester, said: "It is important that we understand how GMP dealt with each of these cases to ensure relevant actions to protect those vulnerable to domestic violence were appropriately taken, and to get answers for the women's families.
"Our investigation will look at how calls from Ms Alayed's family, and from Cleveland Police, were handled and what action was taken to check her safety and that of her children."
Ms Alayed, originally from Norton on Teesside, was reported missing from home in Cheetham Hill on 2 July.
But police believe she was last seen on 7 June at about 19:30 GMT on Rodney Street, near Arthur Millwood Court, Salford.