Manchester Airports Group dividend windfall for councils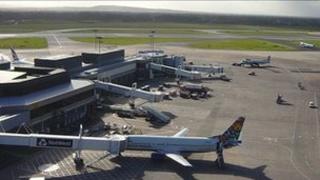 Greater Manchester's 10 councils are to share a £48m windfall after the Manchester Airports Group announced increased profits for the past year.
The group, which runs Manchester, Bournemouth, East Midlands and Stansted airports, is two-thirds owned by the local authorities.
The money will be paid after the group announced its full year results, which also saw operating profit up by 12.4%.
Passenger numbers across the four airports also increased by 1.9%.
Chief financial officer Neil Thompson said it had bucked the national trend.
The results for the year ending March 2013 saw the group produce a £72m dividend in total - a £20m increase on the previous year.
Manchester City Council owns 35.5% of the airport, nine Greater Manchester councils own 29%. and the other 35.5% is owned by the Australian infrastructure company Industry Funds Management.