Neil Whittaker wins Florist of the Year for third time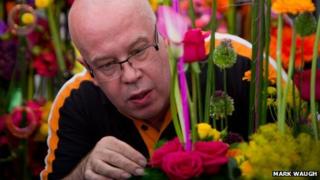 A Greater Manchester man is celebrating after taking the title of Florist of the Year for the third time.
Neil Whittaker, who runs The Design Element in Irlam, Salford took the top spot at the competition, held at the RHS Flower Show Tatton Park on Friday.
He said retaining the biennial title, which he first won in 2007, had shown him he was "still on top of my game".
The competition, which is held by flower delivery service Interflora, has been running for over 50 years.
Mr Whittaker, who represented the North region at the competition, faced "tough opposition" from seven other professional florists to take the title, a spokeswoman for the organisers said.
However, she said he had "demonstrated a level of talent and creativity that delighted judges on the day".
'Incredibly hard'
The competition, which runs every two years, required those involved to bring one pre-made display and then create three more pieces under timed conditions in front of a live audience.
Though unplaced by judges for his initial piece, Mr Whittaker was awarded first place for all three displays created at the show, retaining the title he won in 2011.
He said the contest had been "incredibly hard, but retaining the title has given me the confidence of knowing that I am still on top of my game, that I can still compete at this level".
"You have to have the conviction to go with your ideas and your approach, but it has been very tough this year - I thought that the other finalists produced some exceptional work," he said.
Mr Whittaker has also previously won two gold medals for his work at the RHS Chelsea Flower Show.
The Irlam florist will now go onto represent the UK at the 2013 Interflora World Cup.