Khuram Shaikh death: Sri Lanka ministers 'apologise'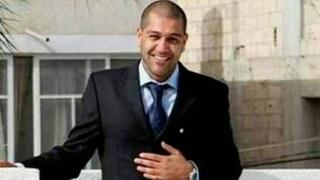 Senior members of the Sri Lankan government have apologised for the death of a Rochdale man in the country in 2011, the town's MP has said.
Khuram Shaikh, 32, from Milnrow was shot and stabbed on Christmas Day 2011.
Eight people, including a Sri Lankan politician, were arrested and bailed in November. They all denied the charges.
Simon Danczuk, who has been visiting the country said he had meetings with a "number of senior ministers, who said sorry for what happened to Khuram".
"That has to be welcomed, because I think it is the first time that anybody at a senior level has said sorry for the murder."
The British High Commission in Colombo has previously said the 18-month delay in bringing the accused to trial was "not a good message to tourists".
The Labour MP said the ministers had told him that missing DNA evidence, which had delayed the prosecution, had been "produced".
"That is a significant piece of the jigsaw in terms of a successful prosecution and it has taken a long time for the forensic examinations to be done on that."
He added that the officials had also given him "assurances and guarantees that justice would be done and [the case] would go to trial".
'Cautious but optimistic'
In a statement issued earlier this month, the Sri Lanka High Commission said the government of Sri Lanka "is committed to prosecute the persons responsible", with a "special prosecutor nominated by the Attorney-General to conduct the prosecution".
It confirmed the case had been transferred from Tangalle to Columbo Magistrates Court "to prevent the alleged intimidation of witnesses".
Mr Shaikh, who graduated from the University of Salford, had been working in Gaza for the Red Cross, fitting prosthetics limbs.
He was shot and stabbed when he and his Russian girlfriend, Victoria Aleksandrovna Tkacheva, were attacked on holiday in the resort of Tangalle.
His brother, Nasir Shaikh, said the responses to Mr Danczuk's visit were "very encouraging and positive".
"I'm cautious but optimistic - I hope this will actually move them towards the trial that needs to take place.
"We have been very concerned that it has taken so long to get the DNA report, but if it has been completed, that is a step forward."