Concern over 107-year-old Minnetta Webb's care row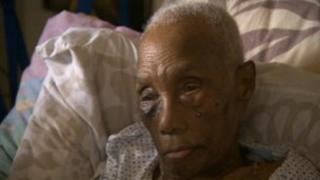 An MP has called for an urgent review into how a row over care between the family of one of the UK's oldest women and a hospital came to involve police.
Officers tried to remove Minnetta Webb, 107, from home after her family took her out of Manchester Royal Infirmary.
Social services later agreed to help deliver a suitable home-care package.
Sir Gerald Kaufman, Labour MP for Manchester, Gorton, has asked the city council to review the way the case has been handled.
The hospital had issued an emergency order to keep her there as officials believed she could not receive proper care at home.
The great-great-grandmother's family said they were happy with her hospital care but wanted her to be at home.
However the hospital had issued a deprivation of liberty order, believing it to be in her best interests to be cared for in hospital.
'Absolutely appalling'
After the family broke the order by taking her home, police were called.
Relatives said they were angry about being accused of abduction and having to deal with officers turning up at their door.
Granddaughter Susan Peltier said: ''It's absolutely appalling. But that was their mission to come and remove her from the house.
''Why would you do that for a 107-year-old - you wouldn't let the police in. No way were they stepping over this threshold."
Greater Manchester Police strongly denied claims they were heavy handed, adding: "Officers were told that a deprivation of liberty order was in place.''
The family argued Manchester City Council's social services should provide help to care for Ms Webb in her own home.
The social services department, which faces £40m of cuts, had initially refused to provide extra care but has now said it is willing to review her care package to help her stay at home.
A hospital spokesman said: ''Both the circumstances of this patient's removal from hospital and her ongoing care are the subject of ongoing investigation."
Age UK said deprivation of liberty orders should be used only as a last resort.