'Clare's Law': Father calls for roll-out across UK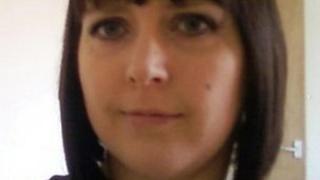 The father of a woman killed by her ex-partner has said thousands of women could be saved from violent partners if a scheme in her name is expanded.
The trial, nicknamed Clare's Law, allows people to find out whether their partner has a violent or abusive past.
It is being used until September by police forces in Greater Manchester, Wiltshire, Nottinghamshire and Gwent.
Clare Wood from Salford was murdered in 2009. She had complained to police about George Appleton before her death.
Michael Brown said the trial of the Domestic Violence Disclosure Scheme (DVDS) so far proved there was a "demand for it".
He said: "It would give them the information so they could make an objective decision of whether to stay or go.
"If you knew you were going to be in trouble with a man who has a history of domestic violence, I don't think you would be staying with him that long - you're not only putting yourself in danger but you're putting those around you, especially children in danger."
He added: "At present the trial is only being used in four counties, but in those counties we are having anything up to 100 applications so far.
"If you multiply that by the number of police forces in England and Wales that's somewhere in the region of 4,300 people a year being helped."
'Confirmed doubts'
Ms Wood, a mother-of-one, had met Appleton on Facebook. She was unaware of his history of violence against women including repeated harassment, threats and the knifepoint kidnapping of another ex-girlfriend.
Greater Manchester Police (GMP) said 65 people had applied for a disclosure about a boyfriend or an individual who was in a relationship with someone they knew.
A further 25 applications were submitted by agencies where it was felt someone might be at risk.
Of these, police granted 53 disclosures, while in other cases the partner did not have a record of violent offences or there was no information that a risk was present.
"Anne", who has used Clare's Law, said: "I kind of expected the disclosure to dispel any doubts I had about the guy, but in fact it just confirmed all my doubts about him. I would have been looking at a serious hospital visit I think if he had of lost his temper with me at some point.
"I did manage to speak to one of his ex-partners - she tracked me down on a social media website and I found out the incident with her was violent. I definitely had a lucky escape."
'Coercive control'
Policing minister Damian Green said: "Because this is such an important issue we guaranteed nearly £40m to help fund support services over domestic sexual violence until 2015, so even in an age where we are having to make necessary cuts, actually we are protecting those frontline services.
"Not only have we introduced the pilot of Clare's Law, we are opening new rape crisis centres and we are protecting the budget of the general support services."
But Polly Neate, chief executive of Women's Aid, said Clare's Law was not a solution to the overall issue.
She said: "The most common time for a woman to be subjected to very serious violence or murdered is just when she is leaving the relationship or when she has just left.
"The other issue is that many perpetrators of domestic violence do not have a previous conviction, so a woman might find out that her partner does not have a previous conviction but that doesn't always mean he isn't dangerous.
"The most important thing is to spread awareness of the early signs of domestic violence which we often mistake for excessive affection or romantic attitudes, which actually are the beginnings of coercive control."