Lightning 'explodes' church tower in Ramsbottom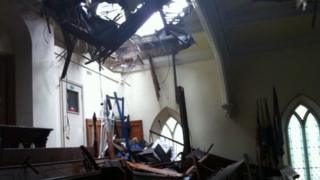 A lightning strike has "exploded" part of a church tower in Greater Manchester sending debris crashing through the roof and into a school playground.
One of four large pinnacles at St Andrew's Church in Ramsbottom was struck shortly after 07:00 BST.
Church warden Ian Ashworth said it was "like a scene from the second World War" with pieces of masonry scattered up to 40m (130ft) away.
Firefighters are on site to make the building safe but no-one was injured.
Mr Ashworth said falling masonry from the eight-foot (2.4m) pinnacle had left a gaping hole directly above where the congregation sits.
"Part of it's come through the roof and other parts have exploded," he said.
"Thankfully, the school next door is on holiday because there are great lumps of stone in the school grounds that have been thrown there by the lightning strike."
He described the inside of the church as a scene of "massive devastation".
"The electrics have blown off the wall, half the pews have gone and there's an inch of dust everywhere."
Lucky escape
Wayne Guffogg from Greater Manchester Fire & Rescue Service said the lightning strike had caused "substantial" damage.
"It wouldn't be unfair to say it looks as though a bomb has hit it and it's gone inside.
"As the masonry has fallen down, you've got one metre square lumps of stone that have hit the floor and exploded in all directions.
"As you can see, they've gone up to 40 metres away from the actual building and it's lucky the children weren't in the playground because it's now littered with stones."
Reverend Andy Lindop said all the pupils from the neighbouring St Andrew's Church of England Primary School had been in the church on Friday.
"We're just extremely grateful that this has happened when there was no-one in the vicinity."