Funeral car crashes in Didsbury on the way to service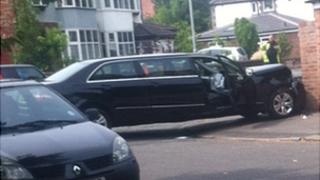 A funeral car carrying mourners has crashed into a wall in Greater Manchester.
The BBC understands the car was following the hearse and carrying several family members when it crashed at about 11:10 BST at the corner of Fog Lane and Fairfax Avenue, Didsbury.
The driver of the vehicle was taken to hospital as a precautionary measure, the police said. The ambulance service said he was taken ill at the wheel.
It is not thought anyone else was hurt.
The driver was taken to Manchester Royal Infirmary, where he is being treated. Some passengers were said to be suffering from "slight shock".