Manchester fire death: Loss 'utterly devastating' to fire service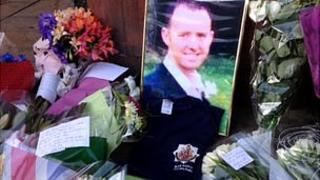 The death of a firefighter in a Manchester shop blaze has been "utterly devastating" for colleagues, the area's most senior fire officer has said.
Father-of-two Stephen Hunt, 38, died while tackling the fire at Paul's Hair World in Oldham Street on Saturday.
County Fire Officer Steve McGuirk said the days since his death had been the "hardest and saddest" of his life.
He thanked people for the "overwhelming support" the service has received since the incident.
Writing online, Mr McGuirk said: "Losing a colleague, friend, family member is difficult in any circumstance... but to lose someone in the line of duty is quite something else".
"I have been fortunate enough not to have experienced it before and I speak for the entire Greater Manchester Fire and Rescue Service family when I say it is utterly, utterly devastating."
'Unquestionable dedication'
He added that it could be "some weeks, maybe months" before a funeral could be held for the "son, dad, brother, friend, colleague, hero", which he said would have a "public element" to allow people to pay their respects.
Mr McGuirk also paid tribute to the firefighters who "continued to fight the fire even after Stephen was taken away in an ambulance".
"That is an unquestionable dedication to the job and I'm sure was done for Stephen and indeed his colleague who was also injured as much as anything else."
He added that "exactly what happened on Saturday night will become clearer in months and years to come" as investigations take place and that their findings would "ensure we fully understand the reasons why [Stephen died] and answer all those unanswered questions".