Ancoats Dispensary given 'final chance' to secure restoration funding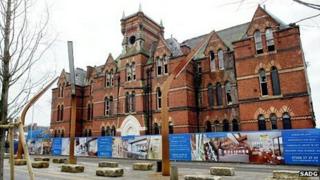 The owners of a former Manchester hospital building threatened with demolition have agreed to make "one final attempt" to save it.
Developers Urban Splash applied to demolish the Grade II-listed Ancoats Dispensary in 2011.
However, after community protests, chairman Tom Bloxham said there was "potential to save the building".
Save Ancoats Dispensary Group's Linda Whillans-Carver said the reprieve was "music to our ears".
She said the group was preparing to submit an application for funding to the Heritage Lottery Fund's Heritage Enterprise scheme to turn the building into "a community space and creative hub" for local artists.
'Beating heart'
Ancoats Dispensary was built in the 1870s to serve the heavily-populated areas of north Manchester, whose residents worked predominantly in the city's mills.
It replaced a previous building on Ancoats Crescent, which itself was a replacement for the original dispensary on Great Ancoats Street, and remained operational until its closure by the NHS in 1989.
It stood alongside other listed hospital buildings, which were demolished between 2002 and 2004, and was included in the Victorian Society's Top Ten Endangered Victorian and Edwardian Buildings list in 2011.
Mr Bloxham said that "nothing would give us more pleasure than to save this important building", but warned that if the "fresh opportunity" for funding failed, the application to demolish it would be submitted again.
"This funding is not certain and there will be a great deal of competition, [but] we are optimistic that, with the hard work that is being undertaken and the support that the building generates locally, the application will be successful."
Ms Whillans-Carver said the reprieve showed "the whole world that, with passion, persistence and the right support, anything is possible".
"We now work towards ensuring that this becomes once again a working building, taking its rightful place as the beating heart of this area."
The Victorian Society's James Hughes said the building was "in a shocking state of disrepair" and the withdrawal of the application was only the "essential first step" to saving it for future generations.