Shop store room fire breaks out in Manchester city centre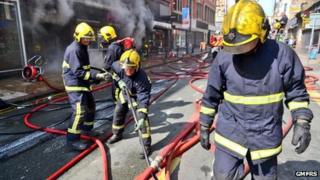 More than 60 firefighters are tackling a fire in the underground store room of a shop in Manchester city centre.
Greater Manchester Fire and Rescue Service said the fire broke out in Oldham Street in the Northern Quarter at about 14:50 BST.
It said firefighters were taking turns to go underground to tackle the blaze as the heat was "intense".
Two people have been taken to hospital and the public have been asked to close doors and windows due to thick smoke.
Shortly after 19:00 the fire service said via its Twitter account that the fire on Oldham Street was still burning and that while they were "making progress" it was proving "very difficult" for them.
It added there was lots of stock burning and that the flames had "broken through to the first floor".