Network Rail plans more trains through Manchester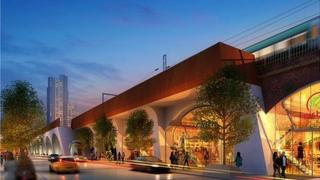 Plans to increase the number of trains running through Manchester city centre have been revealed.
Two new platforms at Manchester Piccadilly and track widening at Oxford Road station will allow longer and more frequent trains.
It will mean an increase from 10 to 14 trains travelling across Manchester every hour, according to Network Rail.
The improvement is part of the multi-million pound Northern Hub upgrade for rail services in the North of England.
Network Rail has released information about the scheme in the first phase of a public consultation.
It includes options to install two new platforms at Piccadilly, next to platform 14, and widening the railway corridor around Oxford Road station.
The improvement will allow longer and faster trains to pass through the city.
'Faster trains'
Dyan Crowther, Network Rail's route managing director, said the plans for Manchester Piccadilly and Oxford Road stations were a key part of the hub.
Sir Richard Leese, leader of Manchester City Council, said the hub would bring massive improvements to rail services across the North West and economic benefits.
He added: "Due to the sheer scale of this project, it will inevitably have some impact on the city centre, and we are working closely with Network Rail, as well as with residents and businesses, to make sure that any disturbance will be kept to a minimum.
"While the Northern Hub project is a vital piece of infrastructure bringing many benefits, it's also vital that the city centre continues to function during its construction."
New tracks will be laid in Manchester on the lines between Leeds and Liverpool and Manchester and Sheffield. This is expected to provide faster trains with places to overtake slower ones.
The 35-mile journey from Manchester to Sheffield currently takes an hour.
Ten minutes will be cut from the Manchester to Leeds service and a faster journey from Manchester Victoria to Liverpool is also promised.